My candidate Damian Impressed blue Polemonth and became weyrling D'ian!
13-Turn-old Damian, a Weyrbred lad from Madellon Weyr, Impressed blue Polemonth to become blue rider D'ian!
D'ian's achievements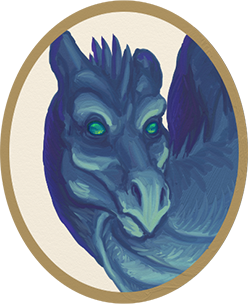 Achievement Unlocked:


TRUE BLUE

I Impressed a blue dragon named Polemonth!
D'ian's export passcode
You can use this passcode to import D'ian and all his choices into the next Dragonchoice adventure – Dragonchoice: Recap!
N4IgxgFghgTgdlAtgUxALhAEQOQEspwgA04BAJrmVAC7IIrpZL6ElkzJKMBGANgK6oSAZ2oc4Ac2oR0AVhEBrXL17oAzCKgA3LQE90AdhIS6ZZDEaIovISCgn0ARg0huAe3gBNThbQAOAE4SD1wJXEIMAHdkXQsSbigwBQkYN344MkYYSnNhYhAABw4tXDThAGFyShpUDAAza2FbJthIZEz6xuafSAAlHN8QAGUAMgBiNQCAbmz+PJEeiEwYezcIkAAFKDIm6XyWmEhyt140wb5BfOsxflxRXDAh5F46u5k0ACYScLMC0zpqAB5bjtXAA9BBVwnMiVfjUUpzQxsZShAEAGSgAC99GhIU1smUAGLpJGFE64WgAIQEcGoThIRTSZAAEvxEHxapC6h4wiVJAA1H4PeFaWpfEBpagSNzhCS9ZD40UdPwkCBrBXUTDIMDICl1fiqNAAFjYK2l6w2J2QiDWe1NqzgAH0wG4zIx2PZKfkXad+OcBLYIMgAB6MMYfAAMaiNsjq+Q95sdJgy5ks1lsCbWjuEuExtTsorNGbNWbMwjA2QK8LW7tgCgABKJkM8ALQXYsOx3bABW2pFyEcjGEEH09sTPb7uFFH3duDqrzMtPjJad1xgt3uj2er2HjCeLzey87P2QfxTtOBoPBGEvFHBY6z7l4MKgcIReQwsOriIfToovFRWkMWxRhgNHEBMydfF32JdYngJH8IJXR0CnJKkaTpDBLQA2gj0TRl+BZNkOUYVl2RsPCs25GBeVlQUMmFKd80JHkp1lSinUlaVZXlRV2kYXjzCVDjHTVOANS1HU9QNRhJN1ah9VUX9HQUGIABUVgpUjiIokg6myUxGAAWVgag3EQfJ9LBDJKgYqhcLQOADV4PSDIyIZqHID8QBuWwrNMABJRAigVJoOh89dbDAXgoGEYQrAckAjPGSYpjMiySGi2L4pqWyKHs/MTJgdLvRiuKEuQY5fXOVI4DzUrsoq5YHUYABpV87RAAA5B4gzgZlnj+cLfPySlsmkMEBt4IbGAaXgmnybItGsRgAHFdDMMzWBAJbrDy6oHKclQSF23gqrOHhUkibbTua81ZOgWkZBOqdrCCkK4v4jARpe5beEwMFwrmhbfusABRXswFoIGukW17eAAdVioMYfm2xTo8qBuBRMLZth0H/ruCtQWhvG0bhv6NhWOBVLITw0kYH6dvhqmCFpoZ+DAHU4sUsmQeZynqdprZKHQCMCbUmhqBsVH+dO3o3BBPn0fhwk3PC1qNQ8Uq4UgNS0jaWWorKnLaBMg0vpAYGVb+82ZeV/IrAtshVvXMgHE6cmSCdmXzr9dAjpckAffaO61mON0MED/JcGCjhPrITGMm862OOELYE/p/hSVjj6wv1zmUbD9ZU5IU4YDIABBApGVFD9A+MbRkH13Ri4dxvRUtAoXXgdvXGQIznOQUnPf5hNK8deh83auFnqQ+xyknpB816KBdE6hNMCXhhPxCAE54TVrt/zSuYuDcIN7NLrj8YLqoDuXYD7NQEb4wTBHsv+wNlfkB6bcT+JAAEUf5GWbBQABvQf7lFiAgABakf6a2oNQXQCU55gFgDYKAEBAQFHCKUCI4twArH4MtHBeCaxoEIfpLaZC4D4LFo3GAMU4C0PoZQ4wChrjIFYRQwhEg/gqFijwghxgxBrGEQwkAEAEAwAkewkAdwEAsNwXQ3hJBuyqV4HIwhShhxQG0d7WAdwDHB2HHQExcBuwnBMQUACBATEwAgOIExwgoDBhoSothhDhxuDcJwhALirShGwZ4tRIBhCzGEHI8UnkYBmJMVKaw+jQkRBbI4EgiSgQpMkWIZ4pwTFaAkLoGgJjMR1DyYE58GxcB/BTvjcJ0JQFkCUJhK29ThDQnKNAGAFlR6BhoJAWUSNdBg1pOYS2pcdqcENsyAZEBZSuzSBkPuwhxJQAULCCQEBWmTNccnBGMQmGcDMIMSZawqaKxoGwtpXtXAcBoCjYkKA6m3LAHCWZyy+n5AApiWAicKxzMkas9ZyBKQUnzJMqwNghgIFUmCxKuz0qJAgJXNofcQ5G2XG4a6Ez6kcBdHAMAyh2hFTuEMIJWy+4SCbqS4QCNwgQvqVYbIwgPJWiKgoeuzlvZmLgL0QijLbmRGgNQSucBK5xTVBRL5GTzCYjWKvJBuLblBmmu0AAWmCGKBR3g3P5nojgZBNXPCgDqlZZkbDVMFfzaRsAxq4BBJikQsLkCjJdOkWghq+5KBUO0GFIK+5iG2O0V2scFR9wSMIVS1BKgLRla4WK0b5TUD9OJJ1IAWltDgMIKaM140ApIVAMVKQcR6tsMisESpqSCEpNYeafcK3ICVBiMguhq3WvLYMpt7R+hkDIDYF5/NG1KiRtQDpJd6nDr9ZAYNcB9LIAFQ2rtSoti0iiXAQkuAOBLvmd2sgBcZ07sre0K1YNdDKqHcu9orUYoQG4JzTlR692uwIHAUtkyp1kGpIkBQQwgynifUqJp2pwiDs7bupUYNgw6naMIKDfwoZXLWGBq4V6yABX6uYFi/8mwFBQyQT9GHmR3Gw2O2geHAN+pdfhuwaG/3hHfZOtDatrLoZTBe8Dx793314CxGAChKMu3ubQUQf7sVWAnbcz9CMRWrTcAqQEcAC6nKYxB9ogJnyUnVDRz9lcTDHEJeYSTl61NkEJPfGAal/0HJUIJ8ls8jPMjcMIXBnkcKMak8xs40gka2fjZ+wevqdmqa44SGK0sGXps/ZurZMaBDcEE5SOEnqHYAF8gA=