My candidate Impressed bronze Calathoth and became weyrling R!
-Turn-old , a bred from , Impressed bronze Calathoth to become bronze rider R!
R's achievements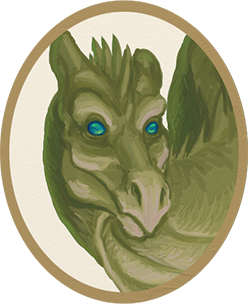 Achievement Unlocked:


BRONZE MEDAL

I Impressed a bronze dragon named Calathoth!
R's export passcode
You can use this passcode to import R and all her choices into the next Dragonchoice adventure – Dragonchoice: Recap!
N4IgxgFghgTgdlAtgUxALhAJQDogCbIA2IANOFHHgJZ5QAuyCK6WAngcWXjMkiwEYwA9nABeqMgGc6POAHM6EdADYpAayqFiaAKxSoANwOt0ADjJzGBGC0RRCEkFEvoAjKpD8h8AJq8baKYe3lRyVHAsAO7IrDZk/FBganLCAK6ULDA0yDCSpCAADjwGVEKpkgDCFNS0DCwyqY6S/pDIeCwAZvbN+c2wkJjZASAAygBkAMQAzACcANxZ5b0tEAAiMM4iLAAKUHjNisv9EBVChGXD/ISN+fYNVNJUYCNEHQ9KaAAMZOEEBVaMOgAeX4bSogPQACZ4mc8FVUnRSks0K4uJpQoCADJQUQmFFSHJIyQAMXSKjIBTOVAYACFrnA6OhvoU0ngABKpRBXVBfMgdbxhEryABqvyeiIMPNczLKdDkQnCckwyGaMEl7V5IAgIhVdFWyDAyGpHVS2g83E2EQwVUI9G1hy4G3lcAA+mAhAQWBa5ABBfLu86pS7CMSOCDIAAeLAmYAALFBIZ9Y/lvSIXZZKDlbPZHKnXZIqOIWJI7FoU060wRJGAsgVEVsMIJQhA6AACeWEAhwAC0ghERcdlpdewAVgaJchXCx3XA3l3GYPncO8GOwBPIcXXt3KZJmru2uWh3cYKkHojnq93iwXoQ3pIlIu079kP9MwyQWCIRgAJKZ1/zw8ly8Tt4XrZEQBpWFAMrdEMzobFcRYBCTEffNCTKEkyQwUkIlQl1KUIalkDpdJGQwbYqTqPCijKdlOW5HZWWg11+RgQVFVFShxSoSUWE46g1x43MK1dWV5UVZVVXVFggQRcT5GYl1tTgXV9UNY1TRYNkdWkRS1BiAAVDZqRYX8/gBBl8g6LIrGvIR+CDXCQGs8FKCqLjah5OBTUIPkbMoEY6GqPIMAaRwXKsb9ECKFVmg1EAwv9W1dzsOoMHGaZ5gc+AkqgFL6GQdyagKuzsqcsBkpLArTkDYYUmQRhcvyhh1ktFgfRyCgHRAAA5J5wzgNkiH+eLErIGkskUcEhsIEbOm6RwsgMewWEGIh6HyJb7CKmgSrQbytDILbCBqi4BGESInOO1rnXQA7fJAY6opi/cNXuo6ePsVZwXirpCB6D7lsIABRVcGF+hbNs+wgAHU8vDUaT0W6HAqgfh0Ti+b/uRoHvurHhqHBrGAce6Htg2OB9LwHwynqJGoaB8mKCpkZUjAQ1dxNbRnMhwH7CZym2l2GgmT5wgDPoOgHAh7GGfsTB7J5HnZbF4l/Pi4VYCIThwGuOhIAMspWhlkmKryqqGAAWSgU0DwwP6SeO63bZNxw7BdgBxE88Bce3eZAd3pdOoM7p8shA7aG6RFOT0MHu/IqGinhXtRygQuVkm80kXZXpp1J0AAdh+JPYraQ22YRqOrQzxxzhgPAfQKGjJRC96QDkQxkEN1gq+JxwO8lCiCndHK/ZVzxkEtnzkCJsfM6dH0XSYJWbTtIRuu9Col6QJXMCgVgN6dVZt+YDAOopw/nAAaRPpWfVtCNwkvuQetvlgeqgB4DgffAnSBN+MCrGgAyH+3ptgAJADTdeoCnQAEUIE+FSjA5wmAIEVFiAgZ+BkIFXxnnQVgSD/SwAcFACAQICjhFKFaVE4ANipGWuQyhDYaHWToCIRhcAqFuAsMQigHCuGajkGoO4yB+HMIsP8LQeUxFWmhO3GQ7CKGcIbMyCACAYAyO4SAB4CA4CaLQHIkc+lCD6OZBoe8UB9E0LsFkSQVjw73kYPYkAcARxnFMRSQifClECJoTACAshnGSCgBGNheifEqKkNqIQwiED6LkZIM4Ro5BkIidQqQiw7FpK0UFXI4YPEJQ7raApcp6AlJ4FoIQziDByFYGU7JmpRAdG1gUxJnZthUH+OnB2TRYSWzaBoMiNdeiwgqNAGAiA+75GgPrCAio4asGBgyHIdthlHV4MbNk9BICKi9mUDIc8mgqSgGoeEKShk9N6MFGGMQYAkOsFMsgIhyb2XoAItZngeB2jaKSFA3T/ZgARFsg5HzCKiFgHgEYNZtkfGZJIBA+kaREUeQHHMIwEXEWRYc3obC7CQB9K0FFEdXbliEJdVZlz1kzjAJoNo1tbEjCSc2OmNweGSnpQ8GG4QlaUtRQythDh6VqFbmHAOji4CYFSLHD5kQZk+jgD6Xc2oHAooYDAUQIg950FnglemZBwyzTaAALXBLaAoHxdWspABYgmJr1rmpZU0AVyAOk8v9mo2AE0qCghJVIDFSz3SkRWb6kAGgtBtHRSct148ZB7DaF7ROKoUUJEkPpOgVQejYviHlNNyo6COQpf7QZrQ4CSBmnNUKeraE22WvKlIeIPmJDmcgdUJFiL2H+o624OyW1tGxHgVgbaUVNvBOqQYeA8AOHTmNJwPb1RwzoIk6uM6R29shZAONs4eBSqViuudQsup2LgMSKgPAu1kFXeqcuG7h37rwK64GrBC3j0vW0K+toIAOSSP8l9d6vYUDgA2vdzbW22iSCMcML5b0gbpW0A04Qf0k1fXgYGEZDRtEkKh/4a43kiEQ44ZDv4howGJEIde0gXz4e7TBvARGHikfIwwAo06q3IcjfpKjF670QfCEB1jd61auVo5mZ9SG70S00KRmAahoOjvjV8hg0gINkrsNXXlyGYYzI9kIFUQI4Dl2GOpu9QJOyQRUpx2dNGfSWFOHAQ0o9G0Cc/jAAykGbllizZZuTkLZThngNpSQFCgqEXweerza7SNBkUHDDzjmaNT3DRc/2yHiS2iltykNKXmzpuuPwWTa6aQIjVVMgAvkAA=