My candidate Shalandra Impressed green Hamnath and became weyrling Shalandra!
13-Turn-old Shalandra, a Craftbred girl from the Harperhall, Impressed green Hamnath to become green rider Shalandra!
Shalandra's achievements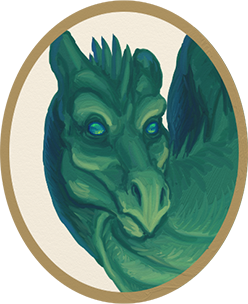 Achievement Unlocked:


GREEN LIGHT

I Impressed a green dragon called Hamnath!
Shalandra's export passcode
You can use this passcode to import Shalandra and all their choices into the next Dragonchoice - You Choose adventure!
N4IgxgFghgTgdlAtgUxALhAZWgGynAExihABpx8CBLAqAF2QRXS10uLJCOSRYHMYyRpwDOdQXD50I6AMzkRAayo4c6AJwKoAN20BPdADZyfRgWQwWAM2SIoOVOSin0ARnkgARgHt4ATR5LNAAOTRBfKj4qOBYwYis6Tk8oMEUBbwBXQhZoGAAHC048wW0qTJEAYUoaelQMK3sRRxAm2EhkAhZxDObWmEgAJRpCjAApADIAYll1AG5FZDUFQMgAEWI+bxiMAAlvAC9iaVEViArvHEygrxwezntuqjEqMExFqyeZNAAWcmjzAqERh0ADyng6VGB6AA7OQfDgCFUMnQyhkRG5yNQcJFgQAZKD7AwhZYwVEiABiWXQvxAeQuVAYACFbnBEsTaTBMgQdhlEJ4HHJyFZfFFSpIAGr/F4o7R1MKZOibaJ8AbIJowWWdNDGEAQLZquirZBgZAMqwZNQ/TEbLYsHZIBDHa3OLYAfTA3nMLCIzlWnA9lwy1wEQhi5AgyAAHixJtCoOoCAAmZo+zZwV2mIHXGx2AXOtOukRUfZ1EA6CzOFM29PmERxKh5FG2jCeUl8CB0AAE9NlAFoQ8J826oAQAFbGmXIVw5KAZdt0AxD9Mj8dgSeJljePLRMqOjqcVPDnCPZ6vd6fFgAQWPMAyTxRYAP1dd/2QgPMrLBEKhGAAkkD3yhJdXXhRFZybNEWCRCD0WArEcVZfFCRYVYVAQxJgPVMlKW2EAcKfF10zpbEmRZNkQGZLIMK4Z9ii5Hk+QFDAAAVOQyTpgOFGBRWVSVCGlKhZRYPjqDXQSq0I10FSVSRVXVTUWDkiwFOAvU4ANI0TTNC07X1MQCILBY9AAFWIBkWFYrlOCsUkzBYUYt2gazbMIKp+NoBh0DgC0cCFFyCEwOhKHRDBumaGzIUIX9EGKNUmi1EAwv9PARBEOxPLGRySHIMAUrS2o3OoDzSwcvInJyvL0uQc5A2DQRB3ASranWQiUNNRBvCdEAADkXgjOAdkWAoEoaHAmk4RlSWkSFBpwYaulvZpSW0ewWGMiAG23bKQGW+xCpqDLvNUchdpwGqrn4eqwx2wT7BatNFKgPQutO6LYtS/dQsWzhTtQz6QFG8aTtunAAFFVwYEbGiWkGAHUoBECMobGmGVpwQKoE8ND4usaGfpB1C60EahIdxlH8bR1j8AWAg/EyBa7mByniDgGnMAyMATVS81LQBvGmfsKnWY6ZioBodAAAYBZwYz6DoBxkaBm60YGbxwTJpXTvJfyWEZCxSWu3LkUgYzMnaRXmlyhH8oYABZWcFY11H7Hti1/sB5o7DdggAHFbwIFx6n5kAvYV86gy8nzyFDjp7q2c4vQwI6lhAKgYsED6AqCwgQr58mlxEUXM7pjI3GCP507ijpTY5pG49wj3OEuGACEvPI6NlELk5MctTb0eunc4Phy2YrcPXgBnmnBW2fOQUmg/zmjnEvV0mFLN4RDyfB6BkfMKlXpBSwGJ6utTVYD+YXYHR3gyAGkL9LUGt+z0+Nm6h+2rTzrd6XvgQQ/jAqxoCsh/qmZiACQA+3sDffMABFCBtshAk1ARsAYECKh6HgDA3+xkIG3zngudKP8wCwAcFACAIJtxwF3JLHKxAMgrUoTuZsUsAYwDoFsJh1CWE9xgHgOAXCaFoFYXwRQDxkCCJ4SAPgBRVAI0kdsER4hOFUKEawiACAYAKNoanEQCABGqKkaOBYOBtFoFcOQZQiMoBmNYXYUkIhbHR0RowJxIA4CjguG4vI2J8BuJgBACQbiRBQEjBwgxzDFEKD1N4MRCAzG9gsS0C4pp2zBNJGiNxQUYAuKycPPAeT6BZMEKobwbjtB8D0EUwxUSQD7BsKoYJFwCDMQbGqQeChmmIIIMocijdOkIgqLkRAHTdT0EgMqeGehQasgsO7YOggUhI3tHQCZkg/aZGyAvJWeieCKCRPOUZISc6w2QJgsh5hszBy2JZZITYG7B1bDwaQHRKQoFzv08AyJ7RbLzkrbE+xYABTiOMr4rC9FQAWIyBkpZPm5mQJgBAUKYVHI4XYSAl52ijJjhbJ83gADu6lcUnWNFsMAKgOj2wcZgFJkQvh/OaMPWUVKniw2iLC4O9iniBRSVSxQXco4hxcXAAY7EOWL3xdAOgl44CXlSnqJiDLOAMBgPsLYx86Dz0St9cMQ0OgAC1IR4DKkc3IBqjVQBNds3oHCHCtPFUrDRsBJpUHBMSloSLkAzI9FROZ7rlCqA6IiyFDrmjiBHB0P2ad2nWqSAjBYdAqjjVjXCeNc9VR0CDES0ZvT2hwBELNeaKbwD0JWjKgQRIlVOAmcgTUlFkCMnsGNUZSzISanxAQPQ9aW01s1EMAgBAHAfODq22tHR4Z0BEM2KtZZe1BsgBGuANlkBip7RtMdLT8CTpBHAckVBBBrrbdXM2Tli2js1Pa0Geh5mL3PR0W+eAICeA5vyw9G6/b4DgJWz5d6CDMhSIobAQg8hvs1N0400Rh23rnQQUGkYTQdBEHBgoa56C7ig0rX9/5BowHJN4TqYg3wYeaFhgaTw8MEYYHkYj9wYPBoWDR6t67NTYGiN+kdMHtaRQIP+cwN7MMwdlioPDMBFCgcjYshgYhsAErsA86DzHx1Sp9t4NUO6a5XIU0eggIIESMj0uJ1uphzhwBNBPM9nGxYwHWkIU5qhDM0uRBGeAexN4MnsAydjWmN14aDNIeG9mLOKYIDPQNfSOPBfJHgeW7L3W/r3fOCotxPCGcZMiFVg8AC+QA===