My candidate Morgan Impressed blue Cicutath and became weyrling Mo'an!
16-Turn-old Morgan, a Weyrbred lad from Madellon Weyr, Impressed blue Cicutath to become blue rider Mo'an!
Mo'an's achievements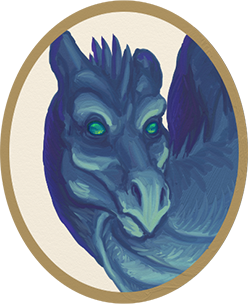 Achievement Unlocked:


TRUE BLUE

I Impressed a blue dragon named Cicutath!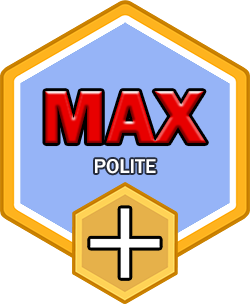 Achievement Unlocked:


THE SILVINA

I maxed out my POLITE score!
Mo'an's export passcode
You can use this passcode to import Mo'an and all their choices into the next Dragonchoice - You Choose adventure!
N4IgxgFghgTgdlAtgUxALhAWQPYHIpwgA04BAJgJZlQAuyCK6W2MA5gcSGTMkkwEYxsAd0IkAzjR5xWNCOgBsEgNYUANmvQBWCVABuegJ7oAHCVb0yyGE0RQ1qElAvoAjEpD8WcAJq8baCYeLBSsFIQYwsiGNiT8UGDKrEIArnBkTDBU1uKcAA48ehTYKeIAwuRUtKgYUimOIOL+kMgZGABm9k2cTbCQAErZASAAygBkAMQAzACcANxZpT3NEAAiMM7YESAAClBkTXLLfRBl2Golw/xq9Zz2dRSSFGAjyGrtj/JoUyThVnmWeg0ADy/FaFCBiji5zIFRSNGKSzQHkoalCQIAMlAAF7GNAAJgk1kR4gAYml0D8QHlzhQ6AAhG5wGjoAAMJAKJTIAAkUohrjUqe0WGEijIAGp/Z4IvQ1AAsJBKNFY2HCrH6yCaMFlbQ8EC2mpoq2QYGQdPaKU0aAVXA2Ku2ZWe8No8hI3E2cAA+mBsFYmO7WABxTg+i4pK43BoQZAADyYEwUCVZZBmnADW09FnS1ls9ga6a94go2JqIDUsBcbrtGas4jAWTyCK2TDRrAgNAABOJlIYALTXW5Vj2e/YAKxNMuQrkybygMdaaerXrHE4osvxAio1AFi+H9xgKUeCJebw+4i+IAAgmoHk8wLv7Z6/sgAdnmaDwZCMB/KJCh4+vDUWEoHhEkmDhJsln/Gt1HRZksVxJhVlgrMWWgwtiRKMkKQwckxFtYcaTRBkmRZDAdlpOgHwzTkUh5PkdwwXl+QcaivWFNg1zVSV0mlNdS1JEUuJkNjPSVFU1Q1LUdSYKTrBk9DPX1OBDWNU1zUtJhuQNSRROUaIABUNjpJgfwhZlOHaLJLCYEZsH4cN8Ks8zgN46gqLQOBLTUEhnMsEYaHIXJagPBo/PSABJRACk1Jo2hATo1G6EgwHLcRxDsDyQDKCBJlmOY0T4FK0oy6oKjc6pwIgWCivAErMuQM4wyuIRRBDerqnWD0kMNDYjhIAA5Z5ozgbk3gBeLEuSkB6SyOQITGtQJqYKaGiyPR7FkiFyzQkB1vscrKHcmovI0Eh9rUJrLgESNOAurr7SYTBkHBfq9rXewopi9KFxCwd3o2tRkN+hKujWj61AAUXHMA6EmsG7ohgB1KBzxB1bEcBgKoH4WC4pWhHzoh5C6x4Sg4YJpLwcBnYNjgfSyB8EomDqan7FpggGZGFIwFNdKLStUGqcx9m6YZvYqDZInAYM2gaAceHhel+x+ns0sMeVtRSWs9ImHFWA3k0Yr4UgAyShaRXptS1HSroTAQIVynpou+3LXRwmQDsN2yEDA8yBcDoPa9hWrvDdBTp8z2HdaB6tjOP0MAjzgKGingfrIbH0mCoXpoLcQ9nTpmUjcX5U9i1ozZ56MyFj7YNbLFgyEvPJOVlYKI/MfRkDNwxa6dhp2FlCi8h9eB+84MFMG85AKcDpWCNYS9PQYUtXnEPICBdB8ymXpBS36KBDDegNVl3xgMDOHXj7tABpM/S2vOdwmv5wBvvpgBqgR5DldBfgXfjAqxoDMl/gGHYACQCBnsFvf8ABFCBz1XqgLtP0CBZQYgIBfqwAyECb4zxoIYTKv8wCwAcFACAwI8jhGKBEdk4ANgpA2pQ6hzYCS+RgDQLYzC4A0KliAdgMByxwG4bwtAdDWDKHuMgERrDxEAg0KjGRtDzBSC4VQnhsiSAQAQDAJRfDHgIGEeo0RdDRz6TUHosRJBVDnigJYuhdgsjiEsa4EgiA0ZGJYcokAcBRznHsRyQqniNHeJgBAaQATGhzk4cEkxEh9TYEkQgSJ4hzhmjbCkxYzjjGsMJCAQKMA0aROVNAlxJASkghyd4qQhtsCRL0KwQwtBInYnaIbFJMIdgUABNneuqSgLPTIKoMiOcGj9NhNAGAiBx5aNoJANUKNDCQ2ZNYd288eAJGrtyOZ1UZC+xKLrOe01xAqSgMoOEbYRl9KCkjaIgjeBWGGPXLYtN7K0FEaMieGy5CtHJCgXpHswDwm2Ycz5JA0TYlgBnesOy+EnLOcgekdJ1ZBzzCMBA+kkVZT6ZwuwkBLwtBmVHb2RLuAiBUpbNaJothgHUK0e2Ti7IOFCBeeug9kAMseEjcIpZWacEcY8AKaSGXKHbt5NxHj+h0RRfPYQ0AaCXjgJedK+pWJHIaHQGA2ItgHxoLPfJoVODRiWq0AAWttKAeRWUe1sWTc1s4rVEskGkrpMrpraNgLNCgYJKU9AxcgZZPo0iarWdNVQGhWjooRUSqQ+xWi+xTpqFmhq4io30jQCo3R1UTzTTPDUNBHKhoaMMlocBxCLWWn9BoMLGFQEVckPEYKQCbIhDqRk9R6T2CSkSltyAdRYjIIYdtbqGi9p1IMMgZAHAAvnmO1oKMaCpLrh7Od0LoBWDgFZZA0qe3zL7a0PYzJnFwFJBQHgu7qr7rIJXSAUAL2toPRCSGhgi13D3TqG+5YIAOUSDO6aq7fYEDgI2+uq7GQJGUCMaML571XsGSacIf7R3vtaJDGMppWjiDQwCWG7ythIbfZenUEVRrWEEtgRddA8gEacChsgJHuSPHI5Rl8NHm10ajfpNjq6oPhBAyuuj2sXIkasK+2jRGK5fy1iwZQsGdS+14HQSQUGRB2GXbOujSN5WBmwJqYEcBK5PIExJsgwIgL0h0nJ1ol4LBnDgKaMe2bxMPrIKSL+MADLQduRoKzGclTRngNpdedJ7B0n4xpkzglwxyBRj5pz7GTNTwjVc4zLnSQ7TRBS3zp7LllBuPwXz9J4SavHgAXyAA===