Dragonchoice: Recap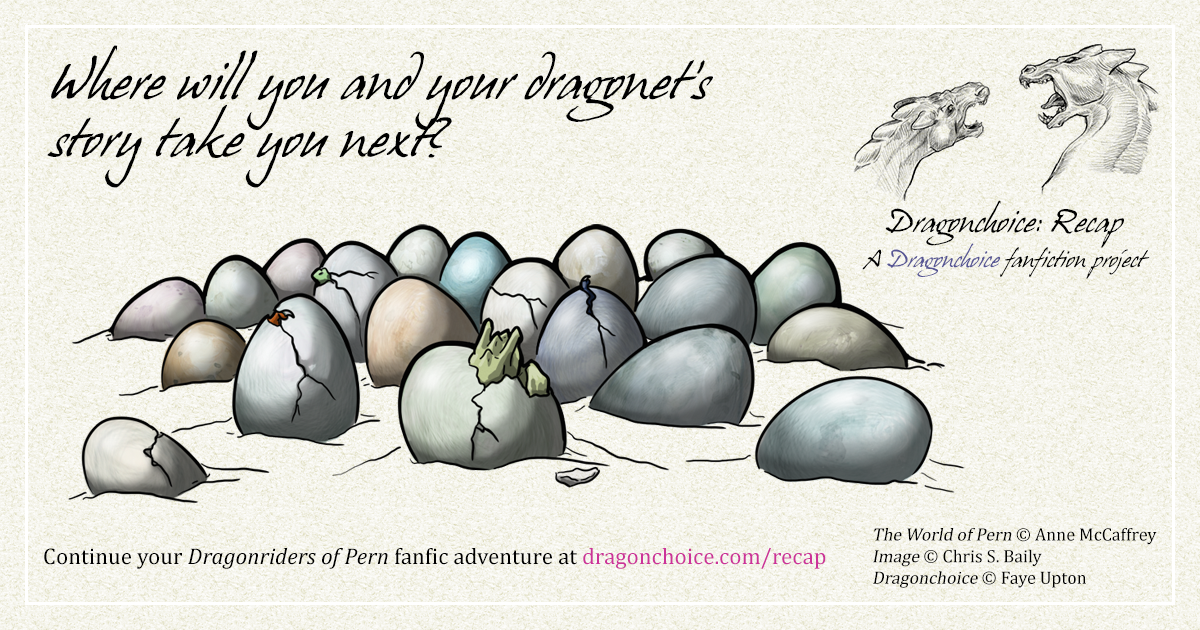 So you've played Dragonchoice: Candidate. Impressed a dragon. Maybe Impressed all the dragons. Died, washed out, been left standing. But what you really want is what comes next for your brand-new weyrling and his or her dragonet.
The full sequel to Dragonchoice: Candidate is in development. But you can continue your weyrling's story right now, in Dragonchoice: Recap!
What is Dragonchoice: Recap?
Recap is a minisode – a smaller, shorter story bridging the gap between Dragonchoice: Candidate and Dragonchoice: Weyrling. It's not a game like Candidate, but all the choices and decisions your weyrling made on Impression day will be reflected in it. You'll get to know your dragonet better, learn a little more about what's going on at Madellon Weyr – and become entangled in a new mystery!
What to expect from Dragonchoice: Recap?
Load in your Dragonchoice: Candidate export codes, or weyrlings saved to your browser, and re-live Impression day from a new perspective!
Fabulous new original artwork from Dragonchoice artist Chris S. Baily!
A chance to rename your weyrling – or fix a broken name!
Over forty new Achievements to unlock!
A new mystery unfolding – with your weyrling at the heart of it!
Unique shareable Recap pages for every run you post to the Dragonchoice site!
How can I load my weyrling into Dragonchoice: Recap?
There are several ways you can load your weyrling into Recap:
Load a weyrling from your browser – if you saved a weyrling to your browser at the end of Candidate, you can retrieve them directly from there
Paste in an export code – if you saved the long export code at the end of Candidate to a results page, or saved it locally, you can paste it into Recap to retrieve them. If you have a Dragonchoice account with Candidate runs saved to it, you should be able to copy your export codes from there – login now to find them.
What if I don't have a weyrling?
No problem – you can still play Dragonchoice: Candidate here to create a candidate and Impress a dragonet! Just remember to save your weyrling at the end of the game!